Roosevelt Magett, StM1c
Roosevelt Magett, StM1c Id'd
StM1c Roosevelt Magett was identified in the crew photo by his grandson, Mel Lasenby. Roosevelt Magett was killed when the USS Mississinewa was sunk.  Magett had only been assigned to the Miss on 15 July 1944.
---
Faces in the Flames: A Ghost Story
by R. Fulleman
Inspired by the many stories in the sinking of the USS Mississinewa.
Young Cam and his father SCUBA dive on the sunken WWII ship his grandpa served upon. The ship was sunk amidst burning oil in 1944, killing 63-men. Diving on the wreck requires local guides, but Cam was lucky and an attractive island girl his age, Vera, was his underwater guide. It was Vera's job to keep Cam safe and outside the dangerous wreck. But when an unknown force calls to Cam, he ends up in the ship retrieving a shiny object. Not wanting his parents to know he broke the rules by going inside the ship, Cam must survive fiery apparitions alone while finding out the secrets of that object as it changes not only his life but the lives of others.
As an added feature of the book, a second story, Faces in the Flames: The True Story is included. It is a non-fiction account of the WWII ship, USS Mississinewa (AO-59). This short, non-fictional account highlights the actions of ten sailors as they struggled to abandon the blazing ship and a few who work to rescue them.
Faces in the Flames: A Ghost Story
can be ordered through
Amazon
.
---
Putting a face to the name!
We can now put a face to the name of Ray Glendening, S2c.  Ray's granddaughter, Debra Hamilton, was able to supply a portrait of her late grandfather. Glendening tragically only came aboard Mississinewa in October 1944, only to perish one month later when the ship was attacked.
---
George W. Huss, RM3c, turned 94 in November, 2018
George's daughter, Elizabeth Gavin, was kind enough to share a recent photo of her dad, George, celebrating his 94th birthday.  Happy Birthday, George. You look great!
---
Sadly saying goodbye to Howard Bassingthwaite
Howard passed away on February 11, 2018. He was 92 years of age. We were honored to have had Howard and his wife attend the last USS Mississinewa reunion back in 2003. He said he, like so many others, had joined the Navy to see the world.
Howard's hometown was Winchendon, MA, where he worked as a Foundry Worker before the war. He enlisted at 17 years of age and was only 18 years of age when the Mississinewa was sunk. Howard was on deck mid-ship when the Kaiten struck. After that, he went to his quarters to make sure others there were awake before jumping off the stern. He was picked up by a boat from the Cache AO-67.
Here is a photo of those Mississinewa Veterans who attended in 2003. Howard is at the top left of the photo. He was the last surviving member of those veterans who attended.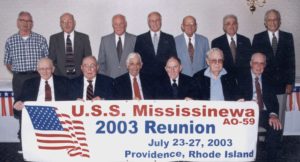 ---
Tranquilino Gonzales, Jr., S2c ID'd in crew photo
The granddaughter of crewman Tranquilino Gonzales, Jr., S2c recently identified her grandfather in the Mississinewa Crew Photo. Lisa Peralta Bell remembered her grandfather in a post on the Mississinewa Facebook page on the anniversary of the ship's sinking. Since we had never been in contact with the Gonzales family, we reached out to Lisa who not only identified her late grandfather, but who also supplied a portrait photo that has been attached to Tranquilino's crew listing. Thank you, Lisa.
---
George Huss, 93 years old on 13 November 2017
On Veteran's Day, 11 November 2017, Elisabeth Gavan, daughter of George Huss, RM3c, was kind enough to send a photo of her dad from 1945. In the photo, he's standing next to his pals, Bill Brzykcy and Andrew "Red" Dadura. George will be celebrating his 93rd birthday on 13 Novemember 2017. We all wish him a very, very Happy Birthday!
---
Passing of crewman James "Jim" Cunningham
Sadly, we must report the loss of USS Mississinewa AO-59 survivor, James "Jim" Cunningham, who has passed away.

The following obituary appeared in the Boston Globe:
CUNNINGHAM, James A. Age 91, a former resident of Readville, died at his Whitefield, NH, home on August 4, 2017. Beloved husband of the late Ethel A. (Doerr) Cunningham and devoted companion of Ellen (Power) Ineson. Loving father of Erin A. Cunningham Tsimbidaros of Scituate, Karin Cunningham-Rioux of Paris, ME, James A. Cunningham, Jr. and his wife Mary Lee of Brockton, Elaine C. Capobianco and her husband Raymond of Walpole, Gail E. Rosata and her husband Vincent of Plainville, and Lee S. Sidoti and her husband Kenneth of Hampton Falls, NH. Also survived by his sister, Alice M. Hoy of Naples, FL; fifteen grandchildren and sixteen great-grandchildren; Ellen's son, David A. Ineson and his wife Barbara; her two grandsons and great-grandson; and sisters-in-law Frances Cunningham of Ocala, FL, and Anne Cunningham of Merrimack, NH. Jim was also predeceased by his sister, Winifred G. Merrick, and his brothers John, Paul, Ned, Bill and Gerry. A Mass of Christian Burial will be celebrated in Saint Matthew's Catholic Church, 9 Jefferson Road (Rte 116) Whitefield, NH, on Wednesday, August 9th at 12:00PM. Relatives and friends may visit with Jim's family from 10:00AM until the start of Mass. Burial with military honors will follow at Park Street Cemetery, Whitefield. Donations in Jim's memory may be made to the North Country Home Health & Hospice Agency, 536 Cottage Street, Littleton, NH 03561, or an Animal Rescue or Shelter of your choice. Boston Public Schools, ret. Decorated veteran WWII.
Published in The Boston Globe on Aug. 7, 2017
A more detailed obituary is available at www.rossfuneral.com/notices/James-Cunningham
---
S2c Bernard Dineen tentatively ID'd in crew photo
Thanks to Debra Lauren Dineen, niece of former USS Mississinewa S2c Bernard Dineen, I was able to tentatively identify her uncle in the crew photo. Debra supplied a photo of her uncle back in 1944 in a photo with another unidentified sailor. In looking over the crew photo, I was able to spot the unidentified crewman and standing next to him was who I believe, Bernard Dineen.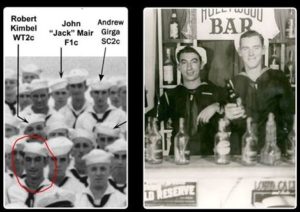 ---
Cambridge, Massachusetts honors S2c Peter Moran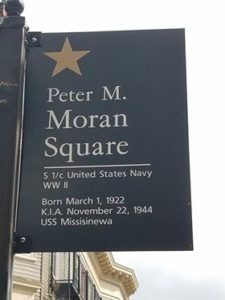 It was brought to our attention that Cambridge is now honoring servicemen KIA with a memorial plaque. This plaque is on the square at Broadway at Lee Streets in Cambridge. It honors Mississinewa sailor, Petor Moran.
Thank you Robert Anderka for bringing this to our attention.
---
Tragic Accident on "Miss" involving Seaman Edward Darcy
The attack on 20 November 1944 was not the first time the Mississinewa suffered loss of life. On 10 October 1944, Seaman Edward Darcy died due to an accident aboard ship.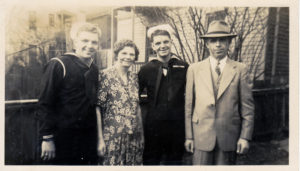 Photos courtesy of
MACS Robert E. Friedlieb, USN Ret
The following excerpt was taken from Kaiten - Japan's Secret Manned Suicide Submarine and the First American Ship It Sank in WWII by Michael Mair and Joy Waldron.
On a day that marked tremendous victories for Allied forces in the Pacific, a horrible shipboard tragedy ended with an American sailor buried at sea. The calendar said October 10. As Formosa and Okinawa were under Allied air attack, hundreds of miles to the east Mississinewa sailors witnessed their saddest day.
Agonizing screams pierced the air that morning right after reveille, screams that burst out from the chain locker of the Mighty Miss. Seamen Patrick Curran and Herb Daitch rushed to the compartment and saw a shocking sight. Ed Darcy, a fellow seaman, lay slumped on the deck, scalded, the skin peeling from his body. Daitch grabbed Darcy by the arm to help but let go when scalded flesh sloughed off in his hands.
On a working oiler, danger could come from the most unexpected quarters, and every sailor knew it. In this case the culprit was superheated steam, packing 400 pounds of pressure in temperatures over 700 degrees Fahrenheit. It could be a killer, and on this day it was. Superheated steam was invisible to the naked eye, and a small leak could cause serious injury. A pinhole leak rarely offered a sound -- not even a hiss -- to warn a potential victim. It was all too evident that superheated steam had escaped from the steam line and literally cooked Darcy. He hadn't seen the ghostly wisps of death, never knew the danger until it was way too late.
The elbow joint in the steam line that caused Darcy's burns had previously burned seaman Herb Daitch a few weeks before from just from a miniscule leak. Daitch had reported the minor injury to an officer. Evidently this morning the superheated steam hit the water condensate in the line with thousands of pounds of force and blew out the faulty elbow.
Darcy had entered the chain locker, his General Quarters station and dogged down the hatch behind him, a procedure he'd repeated every morning for months. Then the line blew. From his myriad cuts and bruises covering his body, it appeared the stricken sailor had fallen to the deck, desperately trying to open the dogged hatch, but his burned hands were unable to grip or twist the hatch wheel. In moments the killer steam cooked him alive.
Panicked sailors summoned a stretcher, and Darcy was rushed to sick bay, where Dr. Bierley administered morphine and placed an oxygen mask over his face. The doctor inserted an intravenous needle and began to pump fluids into the terribly burned man and sprayed him with burn ointment. As Pharmacist's mate John Bayak wrapped him in sterile gauze, he noted burns over his entire body except for a tiny patch on his abdomen that had been protected by his belt buckle.
Delirious with pain, Darcy said over and over, "Look what they've done to me." Bierley placed a stethoscope on his chest and listened to his breath gurgling in his lungs; he glanced at Bayak and shook his head, making no comment. The burns were fatal. Darcy wouldn't live long.
Though the smell of burned flesh sickened the pharmacist's mate, Bayak made Darcy as comfortable as possible. Late in the morning, Bierley, on death watch, phoned the galley requesting a bite to eat. Cook John D'Anna was shocked to hear about the tragedy, recalled how he'd served Darcy at breakfast and exchanged friendly banter only a few hours earlier as he heaped eggs on the deckhand's plate. It was unimaginable that the young man lay dying.
As morning wore on, life seeped out of Darcy's scalded body. At the dying boy's request, Bierley summoned an ensign to sick bay to baptize him; Darcy clutched a rosary in his bandaged hands during the religious rite. He drew his last breath at 1100, five hours after the accident. Bierley called the bridge and notified Captain Beck, who signaled the commander of Task Unit 30.8 for permission to bury Darcy at sea. Permission was granted.
All hands not on watch were ordered to witness the burial. Bierley ordered a canvas bag stitched for the rite; in order to make certain the bag sank, the gunnery department delivered two 5-inch/38 shells to sick bay, where the heavy brass casings were stitched into the bottom of the bag. As all hands assembled on deck, Mississinewa ceased zigzagging with the rest of the task unit ships and sailed free on the tossing seas.
Darcy's body lay on a board, the end with his feet rested on the starboard rail, the other end supported by a sailor. Two others held the corner of an American flag draped over the body. Herb Daitch, one of the honor guard, touched his shipmate's body in a final farewell. Captain Beck conducted the burial as prescribed by Navy regulations, first reciting prayers. After the 10-minute ceremony ended, he nodded to the honor guard. The board was slowly lifted, and Darcy was committed to the sea, his body sliding out from underneath the American flag. The sound of Taps mournfully drifting across the deck. It was the worst day so far for Mississinewa sailors, who watched grim-faced as the bag containing Darcy's remains slipped beneath the waves.
The following was Jim Cunningham's recollections regarding Edward Darcy, and particularly Edward's last day - Shared with www.ussmississinewa.com on 25 Nov 2015 . . .
Jim Cunningham S2c, remembers Darcy as a big man. He and Jim talked often, usually about their mothers and their mothers' dedication to their faith. Jim's mother had given him communion wafers to carry with instructions to put one under his tongue when in danger of death. Knowing he was dying, Darcy asked Jim to come to him and give him one of the wafers on his tongue. Jim did as he was asked. The wafers had an image of the Virgin Mary, Our Lady of Perpetual Help, on them.
Jim still carries the last wafer in his wallet today and wants the Darcy family know that Edward is remembered and spoken of fondly.
---
Ships ID'd in WWII photos of Mississinewa sinking at Ulithi Atoll
Recently, we've gotten some help identifying many of the ships in the photos of the Mississinewa burning at Ulithi Atoll. With the major help of David Stubblebine, a regular contributor to the informative WWII database, www.ww2db.com. David was researching Ulithi Atoll for a different project. He found a portion of the chart he was looking for online and eventually came to Ron Fulleman for a copy of the complete berthing chart from 1944. After being told what Ron was using the chart for, he offered to help. Within a week, David was able to identify almost 100 ships in the area, updating that information onto the berthing chart. Within a few more days, he had taken photos of the sinking ship and calculated out which ships where which within the photo. I'm sure we would all like to thank David for his selfless contribution of time and talent.