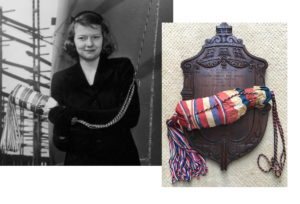 Left: Margaret Pence, now known as "Peggy" Howell, christening the USS Mississinewa on March 28, 1944. See below for the autographed photo of Margaret christening the ship, and the photos she shared with us given to her by Captain Beck in 1945. The photos were taken at the Shellback Ceremony held aboard the USS Mississinewa in 1944. Also... read the latest Scuttlebutt Newsletter. I wrote about my meeting with Margaret, her two daughters and son-in-law. Wonderful people!
- Ron Fulleman
Right: photo of the bottle used in christening the Mississinewa in 1944. The photo shows the plaque presented to Margaret for her role in christening the Mississinewa. Photo taken 6 August 2017, courtesy of Margaret's daughter, Ruth Howell, who found the plaque amongst her mother's things.
Peggy's steadfast bond with the Mississinewa will always be remembered!
Photo's from Peggy!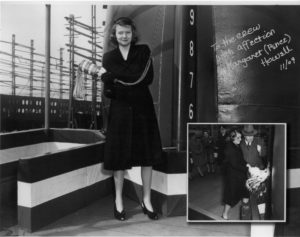 Photos of the christening bottle (Photos courtesy of Ruth Howell.)
Photos of the Shellback ceremony aboard USS Mississinewa, 23 August 1944